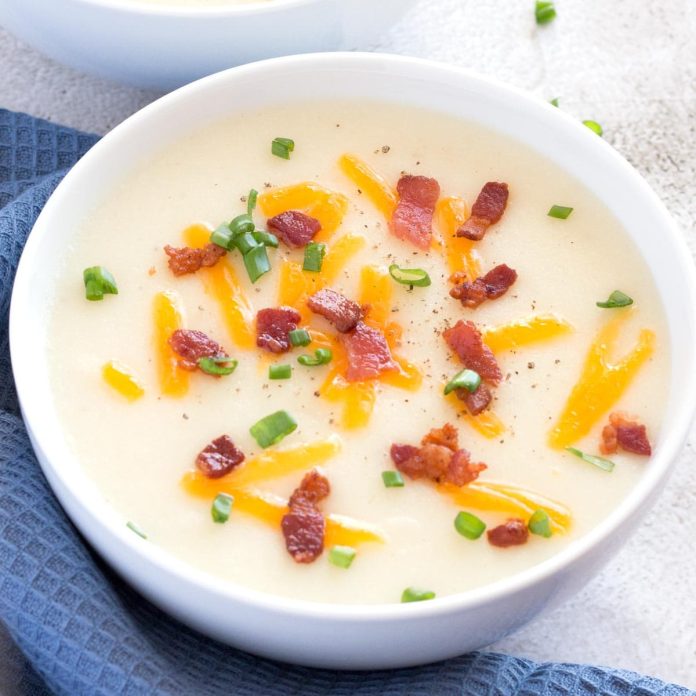 Potato soup is a classic comfort food that's hearty, filling, and oh-so-delicious. The Absolutely Ultimate Potato Soup is a creamy and flavorful version of this classic dish that's sure to warm you up on a cold day. This soup is made with simple ingredients like potatoes, onions, and broth, and is seasoned with herbs and spices to bring out the best flavors. Whether you're serving it as a main course or as a starter, this potato soup is sure to be a hit.
Recipe: Ingredients:
2 pounds of potatoes, peeled and chopped
1 medium onion, chopped
4 cups of chicken or vegetable broth
2 cups of half-and-half
1 teaspoon of dried thyme
1 teaspoon of dried basil
Salt and pepper to taste
Shredded cheddar cheese for garnish (optional)
Crumbled bacon for garnish (optional)
Chopped green onions for garnish (optional)
Instructions:
In a large pot, sauté the chopped onion in a bit of olive oil over medium heat until softened, about 5 minutes.
Add the chopped potatoes and broth to the pot and bring the mixture to a boil.
Reduce heat and let the soup simmer until the potatoes are tender, about 15-20 minutes.
Remove the pot from heat and use an immersion blender or transfer the soup to a blender to puree until smooth.
Return the pureed soup to the pot and stir in the half-and-half, thyme, basil, salt, and pepper.
Heat the soup over low heat until warmed through, but do not let it boil.
Serve the soup in bowls and top with shredded cheddar cheese, crumbled bacon, and chopped green onions if desired.
Note: You can add more or less half-and-half to adjust the creaminess of the soup to your liking. You can also use heavy cream, whole milk, or a non-dairy milk alternative if desired. Feel free to experiment with different seasonings to find your favorite flavor combination.