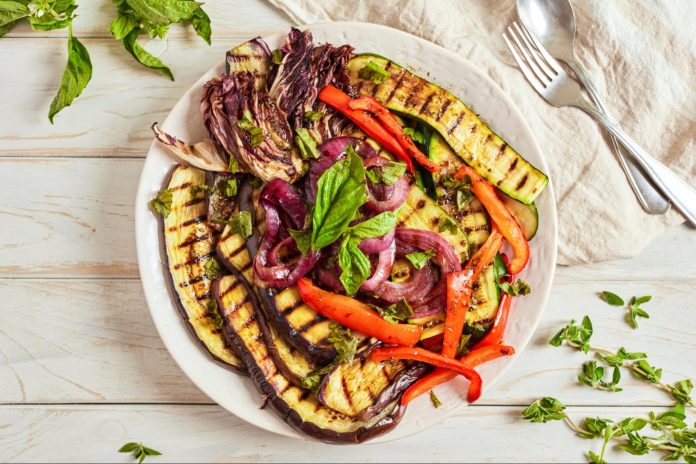 Sicilian Grilled Vegetable Salad is a delicious and flavorful dish that features a colorful array of vegetables grilled to perfection and served over a bed of mixed greens. This salad is inspired by the flavors of Southern Italy and is perfect for a healthy lunch or dinner option, or as a side dish to complement any meal. With its bright, juicy vegetables and zesty dressing, this salad is a surefire crowd-pleaser.
Recipe: Ingredients:
2 bell peppers (red, yellow, or orange), sliced
1 zucchini, sliced
1 eggplant, sliced
1 red onion, sliced
3 tablespoons of extra-virgin olive oil
Salt and pepper to taste
Mixed greens for serving
Fresh basil leaves for garnish (optional)
For the Dressing:
3 tablespoons of freshly squeezed lemon juice
3 tablespoons of extra-virgin olive oil
1 clove of garlic, minced
Salt and pepper to taste
Instructions:
Preheat the grill to high heat.
In a large bowl, combine the sliced bell peppers, zucchini, eggplant, and red onion.
Add the olive oil, salt, and pepper to the bowl and toss to coat the vegetables.
Place the vegetables on the grill and cook until they are tender and charred, about 4-5 minutes per side.
In a small bowl, whisk together the lemon juice, olive oil, minced garlic, salt, and pepper to make the dressing.
Arrange the mixed greens on a serving platter and top with the grilled vegetables.
Drizzle the dressing over the vegetables and garnish with fresh basil leaves if desired.
Note: You can adjust the seasoning to your liking by using more or less lemon juice, olive oil, garlic, salt, and pepper in the dressing. You can also add additional herbs, such as oregano or thyme, to the dressing for extra flavor. If you prefer a sweeter dressing, you can add a drizzle of honey to the dressing before serving. This salad can also be served warm or cold, depending on your preference.