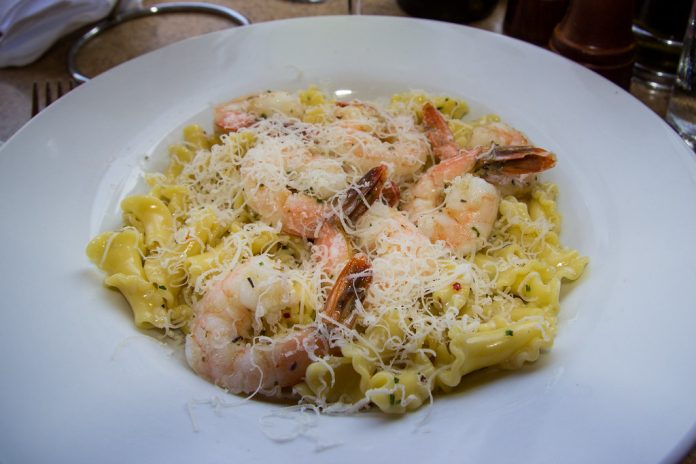 Shrimp Scampi is a classic Italian dish that features plump, juicy shrimp in a garlicky lemon butter sauce, typically served over pasta. This dish is perfect for those who love the flavors of garlic and lemon, as they are prominent in the sauce and provide a delicious balance of savory and tangy flavors. Whether you're looking for a special date night dinner or an easy weeknight meal, Shrimp Scampi with Pasta is a delicious and satisfying dish that's sure to please.
Recipe: Ingredients:
1 pound of large shrimp, peeled and deveined
8 ounces of pasta (such as spaghetti or linguine)
4 tablespoons of unsalted butter
4 cloves of garlic, minced
1/4 cup of dry white wine
2 tablespoons of freshly squeezed lemon juice
Salt and pepper to taste
Fresh parsley for garnish (optional)
Grated parmesan cheese for garnish (optional)
Instructions:
Cook the pasta in a large pot of salted boiling water according to package instructions. Drain and set aside.
In a large pan, heat the butter over medium heat.
Add the minced garlic to the pan and cook until fragrant, about 1 minute.
Add the shrimp to the pan and cook until pink and just cooked through, about 3-4 minutes per side.
Remove the shrimp from the pan and set aside.
Add the white wine and lemon juice to the pan and cook until the sauce has thickened slightly, about 2-3 minutes.
Return the shrimp to the pan and season the sauce with salt and pepper to taste.
Serve the shrimp and sauce over the cooked pasta, garnished with fresh parsley and grated parmesan cheese if desired.
Note: You can adjust the seasoning to your taste by using more or less garlic, lemon juice, or white wine as desired. You can also add additional herbs, such as basil or oregano, to the sauce for extra flavor. If you prefer a stronger lemon flavor, you can add more lemon juice to the sauce before serving.