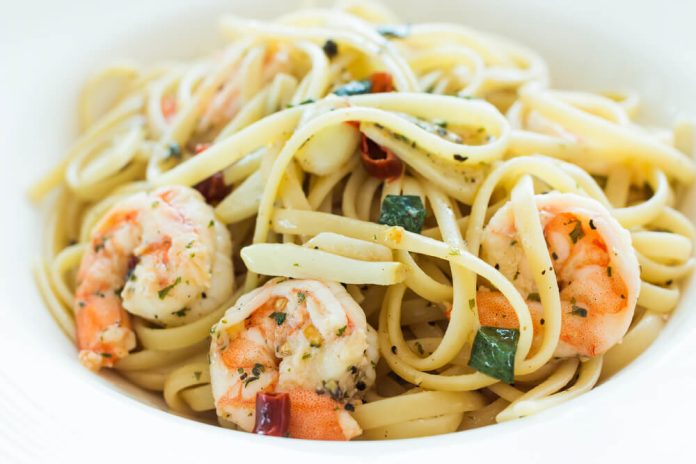 One-Pot Lemon Garlic Shrimp Pasta is a delicious and easy-to-make meal that combines tender shrimp, spaghetti, and a flavorful lemon garlic sauce all cooked in one pot. This dish is perfect for a busy weeknight dinner or for entertaining guests, as it requires minimal preparation time and only one pot to clean up. Here is a simple recipe to make One-Pot Lemon Garlic Shrimp Pasta:
Ingredients:
8 oz spaghetti
1 lb raw shrimp, peeled and deveined
4 cloves garlic, minced
2 tablespoons olive oil
1/2 teaspoon red pepper flakes (optional)
2 cups chicken or vegetable broth
1 cup water
1/2 cup heavy cream
1/4 cup freshly squeezed lemon juice
Salt and black pepper, to taste
2 tablespoons chopped fresh parsley, for garnish
Instructions:
In a large, deep pot, heat the olive oil over medium heat. Add the garlic and red pepper flakes (if using) and cook until fragrant, about 1-2 minutes.
Add the broth, water, heavy cream, lemon juice, salt, and black pepper to the pot. Stir to combine.
Break the spaghetti in half and add it to the pot, making sure it is fully submerged in the liquid. Bring the liquid to a boil.
Reduce heat to low and simmer, stirring occasionally, until the spaghetti is cooked al dente, about 10-12 minutes.
Add the shrimp to the pot and cook until pink and opaque, about 3-5 minutes.
Stir in the chopped parsley and serve hot.
This One-Pot Lemon Garlic Shrimp Pasta is a delicious and satisfying meal that is perfect for busy weeknights or for entertaining guests. The lemon garlic sauce adds a tangy and flavorful kick to the dish, while the shrimp and spaghetti provide a satisfying balance of protein and carbohydrates. Enjoy!