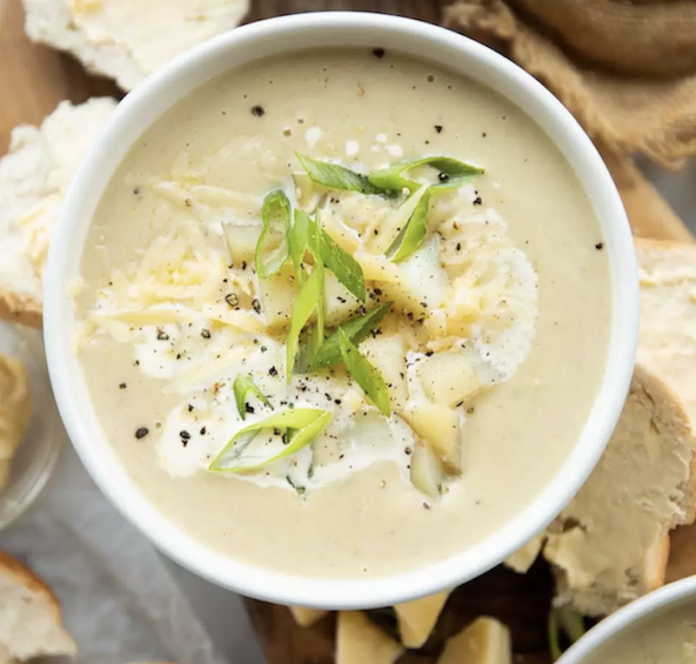 Cauliflower Gruyère Soup is a delicious and comforting soup that's perfect for cold weather. It's made with roasted cauliflower, sautéed onions, and chicken or vegetable broth, then blended with Gruyère cheese and heavy cream to create a rich and creamy soup. Here's a simple recipe for making Cauliflower Gruyère Soup:
Ingredients:
1 head of cauliflower, chopped into florets
2 tablespoons olive oil
Salt and pepper, to taste
1 large onion, chopped
4 cups chicken or vegetable broth
1 cup heavy cream
1 cup grated Gruyère cheese
Fresh parsley, chopped, for serving (optional)
Instructions:
Preheat the oven to 400°F. Line a baking sheet with parchment paper and set aside.
In a large bowl, toss the cauliflower florets with 1 tablespoon of the olive oil, salt, and pepper.
Spread the cauliflower mixture in a single layer on the prepared baking sheet and roast in the preheated oven for 25-30 minutes, or until the cauliflower is tender and lightly browned.
While the cauliflower is roasting, heat the remaining 1 tablespoon of olive oil in a large pot over medium heat. Add the chopped onion and cook, stirring occasionally, until softened, about 5-7 minutes.
Add the broth to the pot and bring to a boil over medium heat.
Carefully transfer the roasted cauliflower to the pot and let it simmer for 5-7 minutes.
Carefully transfer the soup to a blender and blend until smooth. (You may need to do this in batches.)
Pour the blended soup back into the pot and stir in the heavy cream and grated Gruyère cheese.
Heat the soup over medium heat until hot, then season with additional salt and pepper, to taste.
Serve the soup hot, garnished with chopped parsley, if desired.
Tips:
If you prefer a smoother texture, you can strain the blended soup through a fine-mesh sieve before serving.
For a vegan version of the soup, simply use vegetable broth and omit the heavy cream and Gruyère cheese.
If you can't find Gruyère cheese, you can use Swiss cheese or any other semi-hard cheese that you prefer.
With its rich and creamy texture and nutty flavor, Cauliflower Gruyère Soup is the perfect comfort food for cold weather. Enjoy!