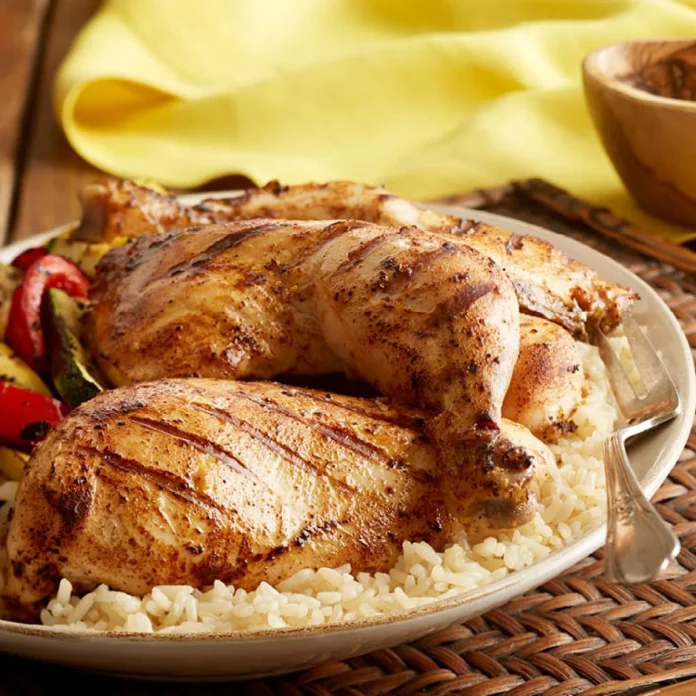 Smoked Tandoori Chicken is a popular dish in Indian cuisine that is known for its bold and spicy flavors. The dish is made by marinating chicken in a mixture of yogurt, spices, and lemon juice, then slow-smoking it until it is juicy and tender. Here is a simple recipe for making Smoked Tandoori Chicken, along with the steps for the best results:
Ingredients:
4 lbs bone-in chicken pieces (breasts, thighs, legs, wings)
1 cup plain Greek yogurt
1 lemon, juiced
4 cloves garlic, minced
2 tablespoons ginger, grated
2 teaspoons ground cumin
2 teaspoons ground coriander
1 teaspoon ground turmeric
1 teaspoon paprika
1 teaspoon garam masala
1 teaspoon cayenne pepper (optional)
Salt, to taste
Vegetable oil, for brushing
Instructions:
In a large bowl, mix together the yogurt, lemon juice, garlic, ginger, cumin, coriander, turmeric, paprika, garam masala, cayenne pepper (if using), and salt.
Add the chicken pieces to the bowl and toss to coat them in the marinade. Cover the bowl and refrigerate for at least 4 hours or overnight.
Prepare your smoker according to the manufacturer's instructions and set it to 250°F. If you don't have a smoker, you can use a charcoal or gas grill.
Remove the chicken pieces from the marinade and discard the marinade. Pat the chicken pieces dry with paper towels.
Brush the chicken pieces with a light coating of vegetable oil to prevent sticking.
Place the chicken pieces on the grates of the smoker and smoke for 2-3 hours, or until the internal temperature of the chicken reaches 165°F.
Serve the Smoked Tandoori Chicken hot, garnished with fresh cilantro or mint leaves, if desired.
Tips:
For best results, use bone-in chicken pieces, as they will hold up better during the smoking process and have more flavor.
Marinating the chicken for as long as possible for the best flavor. Overnight is ideal, but 4 hours is the minimum.
To ensure that the chicken stays juicy and tender, be sure to smoke it slowly at a low temperature.
Serve the Smoked Tandoori Chicken with rice, flatbreads, or a cooling raita for a complete and satisfying meal.
With its bold flavors and juicy, tender meat, Smoked Tandoori Chicken is a crowd-pleaser that is sure to be a hit at your next barbecue or family gathering. Enjoy!