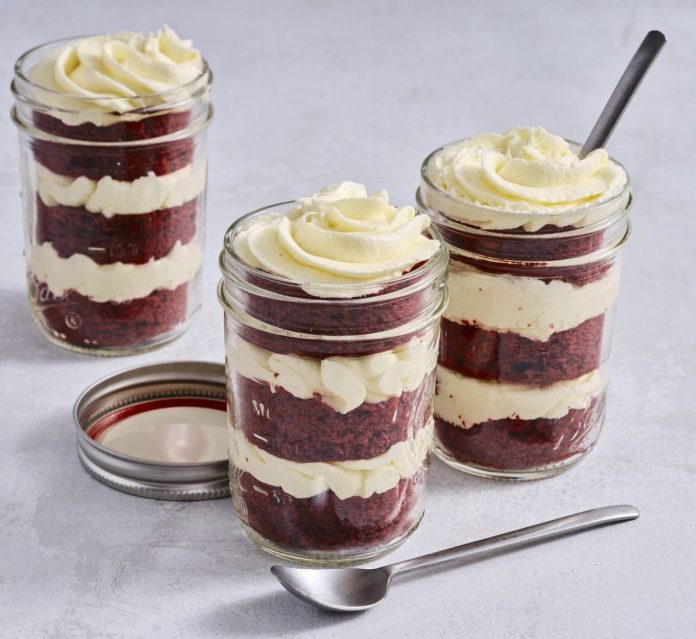 Red Velvet Cake in Jars is a fun and creative twist on the classic red velvet cake. This dessert features a rich and tender red velvet cake, topped with cream cheese frosting and served in mini Mason jars for a fun and portable treat. Here is a simple recipe for making Red Velvet Cake in Jars, along with the steps for best results:
Ingredients: For the Cake:
1 1/2 cups all-purpose flour
1 1/2 teaspoons cocoa powder
1 teaspoon baking powder
1/2 teaspoon baking soda
1/2 teaspoon salt
1/2 cup unsalted butter, softened
1 cup granulated sugar
2 large eggs
2 tablespoons liquid red food coloring
1 teaspoon vanilla extract
1 cup buttermilk
For the Cream Cheese Frosting:
8 oz cream cheese, softened
4 oz unsalted butter, softened
4 cups powdered sugar
1 teaspoon vanilla extract
Pinch of salt
Instructions:
For the Cake:
Preheat the oven to 350°F. Grease 8 (8 oz) Mason jars and set aside.
In a medium bowl, whisk together the flour, cocoa powder, baking powder, baking soda, and salt. Set aside.
In a large bowl, beat the butter and sugar together until light and fluffy.
Add the eggs one at a time, beating well after each addition.
Add the red food coloring and vanilla extract, and mix until well combined.
Add the dry ingredients to the butter mixture in three parts, alternating with the buttermilk, and mixing until just combined.
Divide the batter evenly among the prepared Mason jars, filling each about 2/3 full.
Bake the cakes in the preheated oven for 20-25 minutes, or until a toothpick inserted into the center of a cake comes out clean.
Let the cakes cool completely.
For the Cream Cheese Frosting:
In a large bowl, beat the cream cheese and butter together until creamy.
Add the powdered sugar, vanilla extract, and salt, and beat until well combined.
Spoon the frosting into a piping bag fitted with a large round tip.
To Assemble:
Once the cakes are completely cooled, pipe the frosting onto the top of each cake.
Serve the Red Velvet Cake in Jars immediately, or store in the refrigerator until ready to serve.
Tips:
For a fun twist, try using different food colorings to make the cakes in different colors.
You can also top the cakes with crushed cookies, chopped nuts, or fresh berries for added texture and flavor.
If you prefer, you can also make the cakes in a 9×13 inch baking dish and cut them into squares for serving.
With its rich and tender cake, creamy frosting, and fun presentation, Red Velvet Cake in Jars is the perfect treat for any occasion. Enjoy!